Recipe No. 3 Growth Light Full Spectrum
Spectra for strengthening the plant in the vegetative stage
This full spectrum of growth light is designed to strengthen the plants and their vitality in the entire vegetative stage. The recipe focuses on red and blue light for efficient photosynthesis. Far red is added to increase yield. The blue and green lights are included for growth regulation and the production of flavonoids and other phenolics.
This spectrum recipe is recommended for versatile use as it is suitable for varying crops in the complete growth period.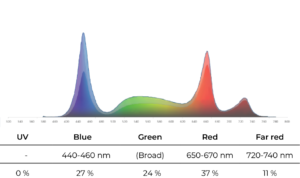 Recipe No. 4 Growth Light Drive
This full-spectrum recipe is specially designed to drive growth and increase yield.
This combination promotes an efficient growth phase due to the emphasis on red and far red lights which is great for the photosynthesis process. Blue and green lights are added for health and growth regulation.
To obtain a high yield, this recipe is our recommended solution for use in combination with no. 5 Pre-harvest spectrum.