Shelly
Illuminated smart shelves
Display books, art, magazines, or any other object on Shelly illuminated smart shelves which are made to impress your audience. Let our experience with smart LED lighting for shelves enhance  the display of objects in your interior space!
LED iBond presents Shelly – an innovative, stylish and illuminated multimedia shelf that easily integrates with IT, IoT, sensors or building management systems (BMS). Originally designed for the prominent Deichmanske Library in Oslo, Norway, Shelly is state-of-the-art quality, offering no compromises. It  is stylish, safe, modern, and  everlasting.
Not only does the Shelly smart shelf solution offer  multiple features and benefits, listed below, it also offers, more importantly, environmental benefits due to the choice in  material and method of production.  
Benefits and features offered by Shelly: 
Recycled and recyclable materials

Low power consumption

Unsurpassed LED lifespan

Long product lifespan

Low carbon footprint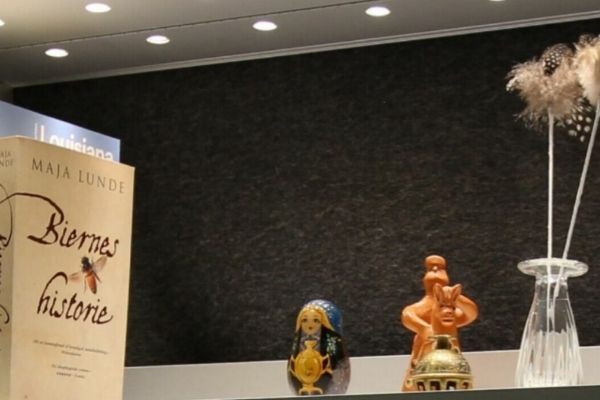 The Shelly smart shelves system offers:
The Shelly smart shelves system offers:
Advanced LED optics specially designed for illuminating books and objects

No visible wires

Discreet, minimalist design

Scratch proof shelves due to the brushed anodised aluminium surface

Lightweight 24 mm slim shelves (yet they carry up to 80 kg/176 lbs weight)

Easy integration of IT, IoT or BMS

Dimmable and adjustable lighting

All safety requirements
Optimizing display of objects due to integrated LEDs with asymmetrical beam angles

A modern interior design due to minimalist illuminated shelves with no visible wires

Hassle-free maintenance due to LED's  unsurpassed lifespan and high product quality

Flexibility and adjustability to fit individual needs

Easy integration with IoT or BMS due to the open platform technology

Low power consumption, yet high efficiency

Easy dusting/cleaning due to their  sleek design and smooth surface
Shelly illuminated smart shelves are perfect for:
High profile libraries

Multimedia centers

Arts & crafts galleries

Museums and museum shops

Flagship stores

High-end hotels, lounges, bars and restaurants
Read  more for information about what the Shelly system offers, or contact us now for a conversation about your project and needs – simply click the button further down. We look forward to talking to you!