One of LED iBond´s main focus areas is creating smart buildings. A smart building is any type of building that makes use of automation to control the operations of the building such as ventilation, lighting, heating, air conditioning, security, and much more; including connected lighting systems (CLS).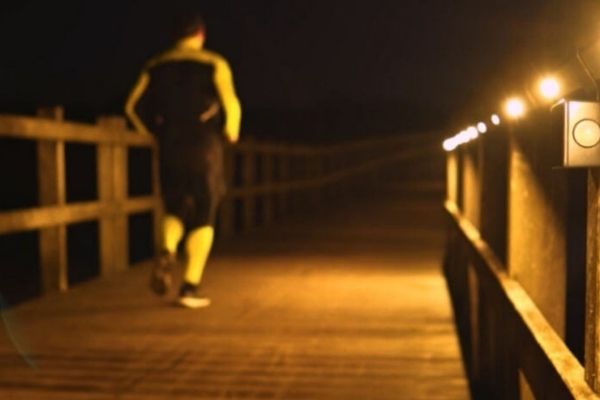 Technology-Driven Smart Building Lighting
LED iBond's innovative products offer significant improvements to home and office environments through the flexible design of Tracy® elements, as well as the seamless integration of IoT sensors. With a thickness of only 6 mm, the system simultaneously provides high-efficiency LED lighting and integrates a wide range of IoT devices such as CO2 and motion sensors.
Tracy® runs electrical power, data and lighting for up to 50 meters with a single electrical connecting point. Additionally , LEDs use significantly less electricity than many conventional lighting technologies, saving costs and reducing environmental impact.
Feel free to think big – LED iBond delivers highly customized solutions for large projects. For example, we have delivered 3,600 smart, illuminated media shelves that are now installed at Oslo's new main public library, The Deichman Bjørvika Library. Similarly, in 2019, we delivered 10,000 LED inserts and drivers for DTU (Technical University of Denmark).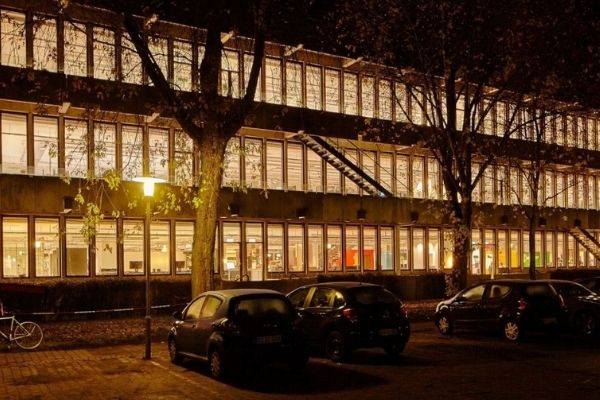 Office Smart Lights: Improving Efficiency and Security
 Progressive companies are deploying smart lights throughout their facilities. By only lighting the spaces that are in use – thanks to motion sensors and other automated lighting controls, large corporations can save thousands of dollars. The improved energy efficiency of LED lighting compared to fluorescent bulbs compounds these savings.
Security within the workplace is also enhanced with better lighting. In New York City, the NYPD, and the Mayor's Office of Criminal Justice, conducted an in-depth study that found crime rates dropped by 36% as a result of increased lighting.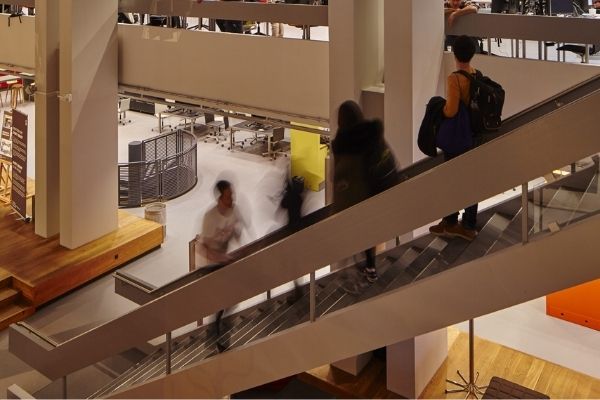 Smart Building Lighting: Providing Remote Control
Smart lighting can be controlled remotely from any Android or iOS smartphone. Lighting controls can also be integrated with security systems and other smart home systems. At a first glance this may not seem like a big deal – light switches have worked just fine for decades.
However, the ability  to have  your light switch in your pocket means that you can easily check in on your lighting; and with just a few taps, turn them on or off . When integrated with smart cameras or motion sensors, this can either be a valuable home experience, or an  office security upgrade.
Advanced sensors can also control  the amount of natural light reaching a space – by automatically increasing or decreasing the level of smart LED lighting provided to each space in your home or work facility.
Providing appropriate levels of light throughout an office space can contribute to several positive factors such as reducing eye strain, and enhancing the comfort and productivity of your workforce.
Key Smart Lighting Components​
There are a variety of solutions available to help control the lighting in your home or office. Most will integrate smoothly with other systems,giving you the ability to easily expand and upgrade your automated space.
The hardware that controls your smart lighting home depends on the solution you choose. Smart LEDs are available with built-in hardware that communicates over wifi with your smartphone. In more integrated solutions – common in workplaces or more advanced homes – there is a hub that acts as the brain of the operation.
The small box that houses the hub is usually placed near a router or network access point – providing a reliable, hardwired connection between your smart lighting and your network. A centrally located smart lighting hub gives you the most flexibility when  integrating with other IoT devices in your space.
The type of smart LED system you choose will determine the fit and function of each light source. For example, you could choose a more advanced LED that takes up less space, allowing you to perfectly place calibrated lighting in any space where electricity can be wired.
Providing Power, Lighting and Smart Sensor Support in Every Space​
LED iBond recently installed a cutting-edge lighting solution at the DTU Smart Library – a central hub on campus where students learn about and experience new technologies. Our smart LED lighting case study explains how the space was transformed with the help of our proprietary technology – providing variable lighting intensity and color temperature based on the time of day.
This expertise empowers our team to craft purpose-built solutions for a variety of workspaces. We invite you to review our past work showcasing  a smart office LED lighting system to help transform a 17th century warehouse into a comfortable and unique office space.
No matter your goals, our smart lighting system for home and office spaces can help you transform vision into reality.