LED iBond
Invest in Leading Edge Technology
LED iBond's technology platform is based on the idea of mounting LEDs in a sandwich of aluminium layers with an isolating core. This sandwich structure integrates light, smart components, data and electricity in one very slim panel without the need for external wiring or cooling.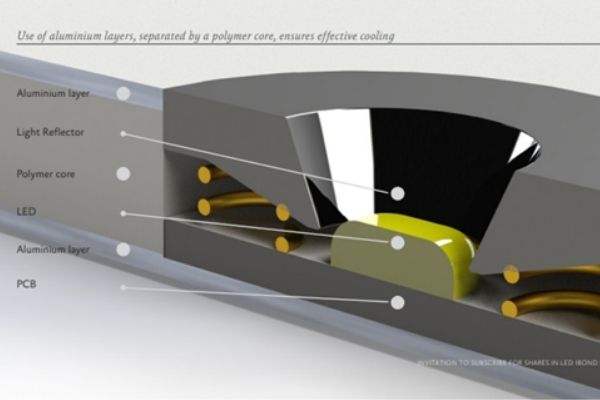 The patented technology platform provides powerful lighting solutions in almost any shape and form, while at the same time providing an 'open source' power base and digital network for all kinds of smart devices such as sensors, speakers and cameras.
The technology has universal application and LED iBond is concentrating on three very promising growth market opportunities:
In the fast-growing market for digital automation of building infrastructures, LED iBond's technology platform offers numerous options for integrating digital light control and all sorts of sensors for data collection for the Internet of Things (IoT). The global smart building market is growing almost 12 % per year, as developers and building owners implement energy savings and new regulatory requirements and install "smart" convenience features for residential and commercial occupants.
In the important market sub-segment of elevator ceilings with a global installed base of 16 million elevators, LED iBond's technology is set to take significant market share with its slim and versatile panel offering a long-life, and no-maintenance LED lighting with the option to include safety features and 2-way communication.
Ultraviolet (UV) light kills bacteria and viruses. With new UV LEDs, LED iBond's technology can be used for purifying air and water and  miniaturized handheld equipment can be used for disinfecting surfaces and components in a highly efficient manner. With an annual growth potential of 12 %, the market for UV disinfection equipment is driven both by the technical, environmental, and financial superiority of UV LEDs in general, by the growing need for water and air purification and by the specific need to protect against infectious diseases, such as COVID-19.]
In vertical farming, plants are farmed in layered greenhouses. Vertical farming requires smart and controllable lighting, proper ventilation, and efficient heat control in a compact configuration; exactly the features that LED iBond's technology provides. The emerging market of vertical farming is forecasted to grow by 19 % annually, fuelled by an ever-increasing global population, continued urbanization and the emergence and growth of legalised cannabis.
Other business opportunities are addressed in cooperation with spin-off partners.
In support of the sustainable development goals
It is essential for LED iBond to leverage its unique technology, not only for the company's commercial benefit, but for the good of the planet. The company's technology is enabling large-scale vertical farming, supporting substantial IoT-based solutions for better human health and well-being, higher energy efficiency and many other climate initiatives. LED iBond contributes to four of UN's 17 global sustainability goals and enables many others to make their best sustainability efforts while also saving energy, improving the global climate, feeding the world of tomorrow, and more!
It is LED iBond's strong belief that the above market opportunities will gain considerable momentum over the coming years.
LED iBond has entered a phase of significant growth, and the company is pursuing support for the continued development of the 3 growth markets: Smart and green buildings, UV disinfection and vertical farming – all areas with exciting and global potential.
The proceeds from the IPO will primarily be used for further expansion of international sales- and distribution channels as well as the development of new opportunities within UV disinfection and vertical farming. The proceeds will also be used for continued management of the patent portfolio as well as securing patent protection for new developments. Furthermore, a minor part of the proceeds will be used for working capital and minor optimisations of the manufacturing assets.